The Vuelta is feeling the need, the need for speed this week after stage 3 started on a Spanish aircraft carrier.
Cue Instagram shots of top gun riders in flight helmets looking ready to write cheques their bodies couldn't cash, lots of jokes about borrowing one of these jets for the sprint lead-out, and does anyone else reckon John Degenkolb bears an uncanny likeness for Top Gun's tragic hero Goose? Maybe it's just the moustache.
Anyway, never let it be said that cycling doesn't love a gimmick.
Australia's Michael Matthews hit the afterburners and won stage 3 overnight, he also took the leader's red jersey. It's the same feat he managed in the Giro d'Italia earlier this season – winning a stage and wearing the leader's jersey is becoming a habit for him.
This was his third career Vuelta stage, after winning two in his 2013 debut.
Matthews is becoming a specialist at winning sprints at the end of hard stages, and everyone in the peloton knows it. It's gratifying that when he aims for a particular stage, he delivers remarkably often.
It's certainly doing his reputation no harm, although being photographed before the stage wearing sandals and socks might.
#LaVuelta: sign on for stage 3 on 'Juan Carlos I' #OGErocks pic.twitter.com/sYk653KdEx

— ORICA-GreenEDGE (@ORICA_GreenEDGE) August 25, 2014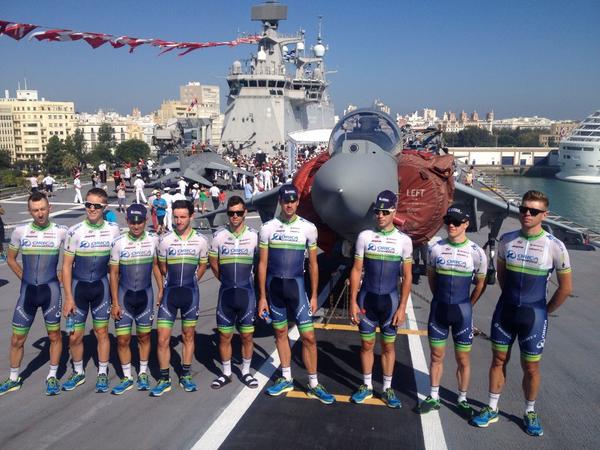 For all Matthews' talent, these successes are built on the strength and depth of his Orica-GreenEdge team in the team time trials, which gets him within striking distance of the race lead.
It's no accident that the Australian team is consistently taking the leader's jersey in Grand Tours, and the team was open about its goal for the day before the stage began. The team worked all day for Matthews, and will do so again tomorrow. He's a leader worth working for.
The disappointment of missing the Tour de France after a crash in training just before the race will be eased by success in Spain, but Matthews clearly has unfinished business in France next season.
It's a measure of Matthews' ability and rapid improvement that Orica-GreenEdge's erstwhile top gun sprinter Matt Goss has hardly been mentioned this year, as he battles through a winless season.
The Vuelta is in Spain's deep south, not far from the Straits of Gibraltar and the short ferry crossing to Morocco. Stage 2 began in Algeciras, a port city where travellers can make the crossing to Tangier, the scene of centuries of trade (not all of it legal), international espionage and a seedy underbelly.
Southern Spain is sweltering country, in late August the summer is barely waning and sunburnt British tourists flop through the heat haze in states of barely coping.
It's lucky then, that the Vuelta keeps the mountains under control this week. Not entirely absent – stage 3 had a series of four Cat.3 climbs; stage 4 has a Cat.2 – but the first real climb doesn't come until Thursday.
The expected melee for the overall victory is still a few days away from any serious skirmishes. Movistar's Colombian sensation Nairo Quintana is sitting pretty in second on GC, Spanish favourite Alejandro Valverde is third,and Alberto Contador and Chris Froome are a handful of seconds back.
Handing the race lead to Matthews is almost the ideal scenario for Movistar, which faced a decision about how much energy to spend defending it. When you've got two riders who are expected to be high on GC in two-and-a-half weeks' time, a few days chasing breakaways in the wind and heat just so the sprinters' teams can clean up the stage wins probably seems less than appealing.
That said, relinquishing the leader's jersey in Grand Tours seems to have gone out of fashion, and a Spanish team in its home race has extra pressure to keep its sponsor's logo on the evening news. Matthews is no threat to Quintana or Valverde, but as he showed in the Giro, he might be strong enough to defend the jersey for a few days and let Movistar save their legs.